There I was.. laying naked with my legs spread,
in front of another man.
S
o a few days prior to this wacky experience, I was bumming at home playing Crysis 2 on the computer when gorgeous
Mandy
called me out of the blue and asked me if I wanted to do, a brazilian wax.
To my manly readers.
IMMEDIATELY your mind went defensive and thoughts of words like 'eww' 'wtf?' 'omg' 'no way.' 'gay' 'why the hell?' 'really?' 'never.' popping inside your head right at this moment naturally (due to cognitive dissonance), but let me tell you.. Honestly? I was curious.
So curious in fact! I took a step further and have gone where few men in Malaysia and the world have gone before.
I went ahead to get a free brazillian wax thanks to courtesy of the one and only
WAXXX
!
WAXXX are professional hair removal experts who specialize in both male/female brazilian waxing and hair reduction.
Now again, to my manly readers. I'm with you here.
Basically when Mandy asked if I wanted to do it; I thought she called the wrong number.
'Pfft waxing is for girls', I snickered and thought to myself; and at the time I really did think brazilian waxing was only for women doing that.. weird... triangle shaped patch of pubic hair or something.
So after I agreed and got off the phone with her, I started to Google up dozens of brazilian wax videos and started looking at pictures.
I really didn't mind looking at the pictures. * grin*
But then I thought to myself.... the endless wonderful possibilities the famous brazilian waxing (or hollywood waxing) could do to a man!
For starters, no more pubic hair sticking out of underwear and swimming trunks.
(I'm saying this on behalf of all my lady readers)
I mean come on, you see that bush down south? Turn-off maximum.
Girls love a man who knows how to groom and take good care of himself, of course I'm the only exception.... fine I'll shave it off.
And then there's
Sexy time.
Your girlfriend does not
like pulling
pubic hair out from her teeth.
If you love her then do it.
Go forth my child, get a brazilian wax to release your girlfriend from the wrath of the tangled pubic hair sticking into her eyeeee.
Girlfriends, get your guys to go for waxing. YOU WONT REGRET, who knows you might find it cute. ;]
So why did I decide to go through it?
I have a naturally densely
populated Amazon of a rainforest down there.
It's growing in my ass too
Come on.
I'm Sam Insanity; which only means
1) I do things normal people are afraid of.
2) I'm a hairy ape.
3) The real reason actually.. a spider almost nested in my pubic hair once, click
here
to see it.
So I wake up in the morning feeling stressed 10am, grab my clothes I'm out the door I'm gonna hit Aman Suria. Before I leave, brush my teeth with my good ol' toothbrush. Cause' when I leave for the day I'll be bald down south. - pun intended, Ke$ha.
I love their chess-piece logo! Pretty classy.
On a side note, parking space no problem. It was super easy to find WAXXX, it's on the same row as Alliance Bank.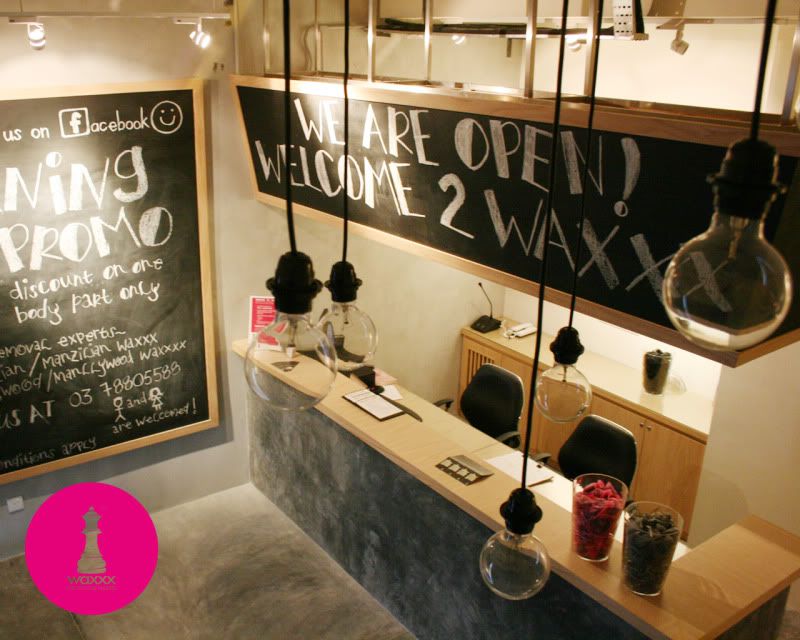 I walk into WAXXX and am immediately blasted by
great music
!
WAXXX were playing really really good music that you'd only hear from DJs at Zouk Club and Ministry of Sound London from way back such as "Make a Move On Me" by Joey N. and other trance/house music which was wicked cool.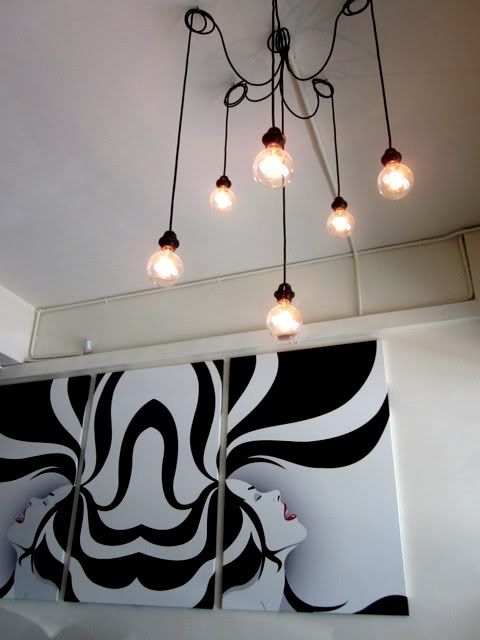 The toilets make me want to live there.
The music made me feel like bobbing my head and at the same time; it was a really calming sanctuary where you could ease your mind from the city life (if you can't afford that Bali trip).
The overall ambiance's outlet was rather relaxing, stylishly trendy, clean and hip! Loved it.
....this candle... is brainwashing me to wax
Waxxx's manager David actually drew that beautiful painting, he's great with graphics and billboards.
Secret surprise about David revealed later on!
The staff there were very informative and down-to-earth nice people so you should take advantage of the opportunity to ask them any questions in mind.
deng~ deng~ deng~ Presenting superman.
David Tan
You also have to meet the manager David,
he's awesome.. except he supports Arsenal.
Speaking of which, the manager of WAXXX, David Tan..
Is the famous man
here
who proposed to his then-girlfriend and now wife on a RM40,000 billboard and a RM14,000 diamond ring holywaxedballswtfbbqOMFG.
He's such a romantic man, rawr. You just gotta meet him; he's so fly even G6 can't touch him.
So I actually was the last blogger to arrive
But was the

first

to go in

(pfft -__-" ) because the other bloggers were too scared to go first.
Hey look,
Room 1.
I shall never forget what you did to me.
Actually I think I'll come by again to do my legs lololol.
Trained hair-specialist assasinator.
This epic wax man who has ripped 500 hairy gorillas.
My therapist; Nicky, was very experienced, super cool and friendly; AND professional.
Every question I asked, he could answer 120%
He worked my pubes; like a car.. driving down the beach. *thumbs up*
Just to let you know throughout the whole session; they would NEVER double dip
(meaning every spatula is thrown away and replaced with a new one after being used),
and you'll get a complementary attachment comb when your pubes get trimmed.
I got trimmed 8D
The rooms, are clean. So clean.
Super clean even hospitals can't keep up with them.
Awesomely clean even the word clean can't describe it's clean.
They actually have sterilized implements with hospital grade disinfectants.
In simple english, everything is bacteria-free.
At first I was curious about what Nicky would do,
so I bent up to have a look which is why I have a neck cramp today.
My head can only look down, so I have to lay back and type :/
Don't know bout you guys out there, but I'm already used to guys looking at my golden pole and butt.
Because I've already trained with the army PLKN for 3 months back in 2008.. if you count the silly National Service an army (LOL YEAH RIGHT)
I have to say, it really isn't as bad as it looks.
The testicle region however.....
The wax? warm and didn't hurt as much as when my pubic hairs were being ripped from my inner thighs.
But the pain was like, a needle poke. It doesn't even last a second.. well, maybe 1 and a half seconds.
Once you're done with with the front, it's time for doggy style. ;D
Spongebob: Hi Sam! Haveeee you seeeeeen my pineapple~?! :D
Sam: I'm kinda busy right now Spongebob, but good timing. [;
This position is done to get rid of ass hair; because ass hair is just weird. Ironically, girls are lucky they don't have to do this position to wax, because hair only grows in a man's butthole and not a girl's -.-
Ass-hair is just so weird and needs to go.
But
NOT
as weird as having a hard dick during the session, now
that
would be awkward.
Time for a testicle to....
I mean
the testicle-hairs to come off.
OH GOD KILL ME NOW I'LL SMACK YOUR..
That's all. Four pulls and voila;
Your lower region feels is as fresh and as smooth as a baby's bottom again just like when you were a kid.
(Notice the epic orgasm faces? Those was not faked. Try taping your balls and ripping the hair off.)
I tried uploading the video so you could see me shouting just for laughs, but a few minutes later YouTube took it down for 'nudity'.. idiot YouTube. -.-
Sorry
Ashley
! I know you wanted to watch the video ;( I'll show you when we yumcha lah XD
The famous Kate Lee and myself.
If you want a girl's point of view, read about Kate's brazilian wax experience
here
!
Just to inform you, they have a
40%
off waxing/permanent hair reduction on any
(1) one
body part for males and females
. So give them a phone call!

*Terms and condition apply
A total of 2 brave men and 6 girls achieved the Brazilian Wax badge that day.
well.. except for Jamie because she only waxed her legs -__- lameeee.
EXTREMEEE 5 BLOGGERS, huzzah.
You probably want to see what my pubes look like right now..... you pervert.
But yeah I'm actually standing, with not a single pubic hair in my lower region.
Sure, the pain of having the hair from your balls ripped away disturbs you, but if these moments are not what you live for, just what are you living for?
You're not getting any younger so do it. WAXXX is a good place to start with
Overall the session was professionally handled. I was impressed by how fast it was too, only an hour!
The experience was fun, and I'd like to say.. I'd do it again if my Amazon forest goes haywire.
So I was told during the making-my-balls-hairless session that Nicky used the Depilars on me, which is a newly introduced and natural method of permanent hair reduction done with waxing all the way from Australia.. strictly for professional use only.
Waxxx is actually the first, and the only salon in Malaysia to have Depilars. If you're an industry professional you can purchase Depilars from WAXXX! Give them a call

Not to forget, there's also retail products are available for sale.
You could also buy the hard to find Lightening Gel, one of the products you can get from WAXXX which work great on both men and women of any and every skin type.
This gel is perfect for use on the bikini genital areas, breasts, nipples, armpit, face, elbows, knees?! It really absorbs quick and dry after a few seconds and leaves no sticky feeling or smell.
Thank you WAXXX for waxing me!
Get waxed guys, srsly.
It's something you have to try once in your life.
Especially with the promotion you get from reading this post ;D
40%
off waxing/permanent hair reduction on any
(1) one
body part for males and females
. So give them a phone call!

*Terms and condition apply
Address and contact details of WAXXX :-

WAXXX Hair Removal Experts,
J-G-17 Jalan PJU 1/43,
Aman Suria,
47301 Petaling Jaya,
Selangor Darul Ehsan

Tel: +603 7880 5588
Fax: +603 7880 1808

Website: www.waxxx.me

Facebook link: http://www.facebook.com/pages/WAXXX/223188667697903

Opening Hours: Tuesday-Sunday (11:00am-8:00pm)



~Sam Insanity