T
wo days after the training, Samsung invited me to see Chelsea vs. Malaysia! Will post about training later
I got free tickets thanks to
mynoobie
, do check them out to get yourself free stuff! ;)
So after reaching Bukit Jalil, the police closed off the road into the stadium.
We were forced to park the car by the roadside. This is a scene of inconsiderate drivers triple and quadruple-parking other cars for the sake of the match.
Typical irresponsible Malaysian litterbugs.
Finally after a 20 minute walk, we reach Bukit Jalil.
These noise polluting buggers selling vuvuzelas which only guys with small dicks buy.
They cost around RM5.00 each
After ticket checks, RELA Security checks for lighters/bottles/weapons.
Highlight of the day: People praying for Malaysia to win.. Really?
As if divine intervention would play a role in football -laughs-
Note the man wearing Chelsea's jersey on the far right kneeling on the flag.. dude, decide only on one team.
Both sides of the stadium almost fully occupied.
Full view of Bukit Jalil Stadium at 7.50pm.
The match starts at 8.45pm so we had to wait another hour.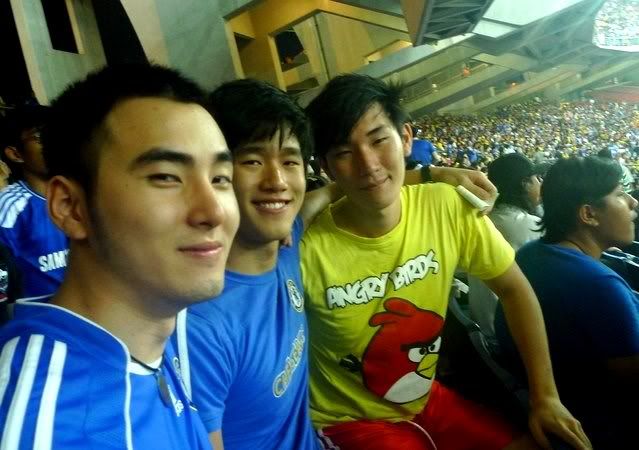 First brother, fifth brother and myself (Go angry birds.)
Did I mention my Lumix LX5's maximum zoom is really crap? (Max it can go is x 3). Sorry for that!
Match is about to begin.
By the time the match begins you can see the Stadium is fully occupied with spectators of up to 95,000.
After 72 minutes.. Chelsea finally scores 1 - 0 against Malaysia.
Match ends.
If you were there you could tell the elite team Chelsea played very badly against Malaysia, the only goal they scored was also questionable.
I mean.. come on, Malaysia is known to suck at football. They even lost 8 - 1 to boyband Westlife back in 2002 as shown
here
.
Crowd jams the exit doors. Thankfully we parked the car 2km away from Bukit Jalil so our car was not triple-parked like many unfortunate others.
Overall, I had a blast and hope the football teams will visit Malaysia more often.