Samsung invited me to train with four coaches of the world-class team of football superstars Chelsea, rivals of Manchester United!
So the other day right after my Brazilian wax
here
, I drove straight to Chelsea Blue Pitch at Damansara Damai located mad far away (thank science for GPS).
I then met with the coaches. Their names were Ian Woodroffe, Keith Harmes, Jamie Greenwood and Sam Hubert.
Cameras weren't allowed during training so I only managed to steal a few shots of the session.
Photo courtesy of Jason Ong [mynjayz.com]
Please lah less harsh on me.
I'll tuck my shirt in so don't scold meh.
Training was hard; super hard.
In just 15 minutes we were sweating waterfalls from warmups, and normally the team does 2 hours of warmups.
Photo courtesy of Jason Ong [mynjayz.com]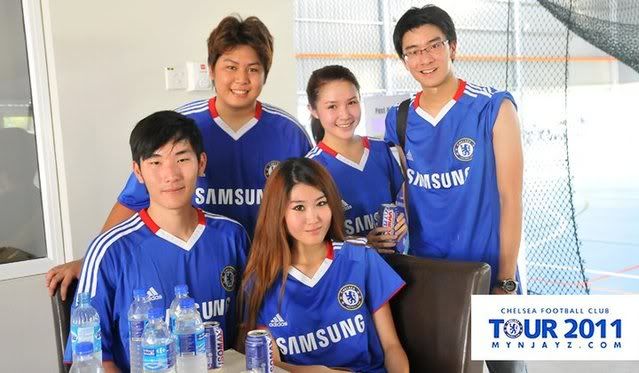 As you can see we were sweating very hard (and they gave us 1 minute breaks in between)
Do check out
Jason's
experience with the football training!
Kate
on the left with Jamie Greenwood.
Keith Harmes and myself
(my favorite coach! funny as hell)
(woah I'm the second tallest....... cooool.)
I actually know how to dribble a ball now.
Thank you Samsung
for inviting Sam to an unforgettable experience.
~Sam Insanity