Pernod Ricard Malaysia and myself would like to invite all my readers to drop by
Tonight
at Neverland KL
(30.09.11)
People have heard about me..
(Patricia Knudsen, Joey G., Evonne Chow, myself, Siti Saleha, and creep)
Stories about my nights.
X Top Model Search Grand Finale 2011 afterparty
(Arthur Tan, Peter Toong, myself and golden boy Henry Golding)
And they know I usually..
Get really, really wasted.
Friends from Penang coming down KL to chill)
(Minny Chan, myself, Wei Shiang, Imin Chan, Clayton)
What people don't know is..
I have am very, very good at
faking
myself drunk.
In truth,
I hate drinking.
You see, I'm a terrible drinker. My body can't take alcohol!
If I have one can of beer, I get high. If I drink way over my limit, I get my starch allergy appearing all over my body.
I'm never really drunk these days. My face just gets extremely red, but no one knows I'm really still
sober
.
When I'm drunk, I do the craziest things. Steal signboards.. leave my car doors open.. I can't even walk straight.
I'm smart you see.
There has only been two times when I got really really pissed drunk.
My first time was at Ministry of Sound age 17 when I had my first whiskey,
Chivas.
I didn't know jackshit about whiskey and what the hell it'd do to me. Friends dared me to drink it so I downed half a bottle of Chivas pure.
It wasn't funny.
I drove and almost died that day when I couldn't keep my eyes open. From that day onwards, I never drove drunk; sometimes tipsy, but never drunk. It's a promise I kept to myself since that day.
But of course.. sometimes you get sidetracked.
As if my body wasn't already bad against alcohol, earlier this year I got pissed drunk again when my buddy Josiah gave me two bottles of this to drink
Absolut Vodka.
I remember faintly boxing with someone on the roof around Mid Valley 3AM, then instead of driving home I drove to Pavilion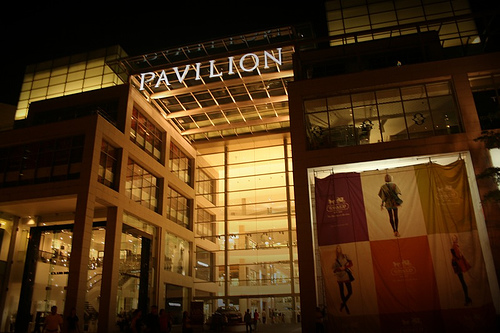 It was 4am in the morning.
I pushed through the EXIT doors and somehow managed to get inside Pavilion.
I can't remember how many exit doors I pushed through, but somehow I broke into the cinema? I remember sitting on the movie seat, going up to the counter and then taking some soft drinks from the fridge. Went back to my car and found I didn't lock the doors.. and went back home.
So, what what the hell really is Code Friday all about?
Code Friday aims to promote a global awareness to achieve responsible drinking; and this goal will be reached by:-
* Advocating Moderation
* Avoiding Drink-Driving
* Making Young-People aware of the risks linked to alcohol
* Dissuading Pregnant women from drinking
* Making Staff aware of their responsibility
I'm really keen on popping by this event tonight to find out what it's all about.
If you know someone who has drinking problems, get them to come by!
~Sam